Notice
: Trying to get property 'post_excerpt' of non-object in
/var/www/vhosts/sandstorm.gold/httpdocs/wp-content/themes/mh-magazine/mh-magazine/includes/mh-custom-functions.php
on line
364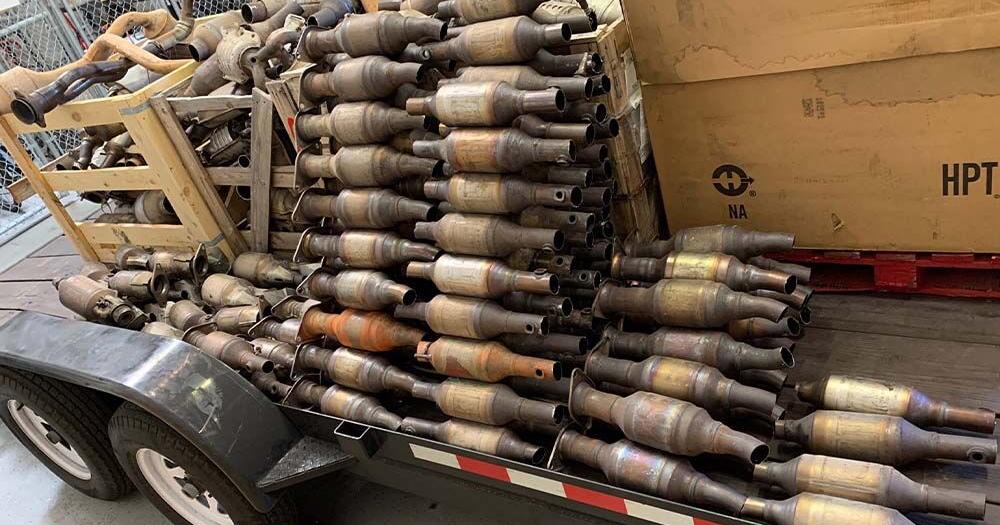 More Gilbert motor vehicle owners are feeling the sting from one of the nation's most rapidly increasing property crimes.
Catalytic converter thefts soared last year in Gilbert from a mere dozen in 2020 to 141 last year.
Of that total last year, 101 occurred in parking lots – sometimes in broad daylight – while 18 occurred in residential driveways, 10 in locked commercial yards and the remainder on streets, alleyways and even an auto parts yard, according to Gilbert Police. 
 "The statistics are comparable to the upward trend in catalytic converter thefts across the nation," said Gilbert Police spokesman Paul Alaniz.
State and national statistics bear that out.
According to an analysis by the public data website BeenVerified, reported thefts in Arizona have grown from 30 in 2019 to 142 in 2020 before skyrocketing to 1,501 through the end of September, a 956.4% increase from last year. That was second only to Colorado, which saw catalytic converter thefts jump 1,254% in the same period.
Nationwide, there were 49,611 converter thefts through the first nine months of year, up 244% from 14,433 stolen through all of 2020. BeenVerified estimates that number will reach 70,000 in 2021. In terms of overall thefts, Arizona ranked sixth in the first nine months of this year, trailing only California, Texas, Washington, Minnesota and Colorado.
A catalytic converter looks like a small muffler along with the exhaust system. It is designed to convert the environmentally hazardous exhaust emitted by an engine into less harmful gasses.
The brazen thieves literally crawl beneath a vehicle and saw the devices off, then find an unscrupulous junkyard that might pay as big bucks because the converters contain much-sought precious metals rhodium, palladium and platinum.
David Glawe, president and CEO of the National Insurance Crime Bureau, said the rise in theft is due to the increased value in the metals contained in the converters.
Federal regulations have effectively required catalytic converters on all cars for decades. If one is stolen, Glawe said, it can cost several thousand dollars to install a new one while thieves can get $150 to $200 per converter.
The black-market operators who buy from the thieves then collect the valuable metals that the converters contain and reap thousands.
 The converters contain platinum, palladium and rhodium. Glawe's group said recently that rhodium is valued at $13,100 per ounce, palladium at $1,975 per ounce and platinum at $1,011 per ounce.
"We have seen a significant increase during the pandemic," Glawe said. "It's an opportunistic crime. As the value of the precious metals contained within the catalytic converters continues to increase, so do the number of thefts of these devices. There is a clear connection between times of crisis, limited resources, and disruption of the supply chain that drives investors towards these precious metals."
"Removing a catalytic converter takes only minutes using some basic, readily-available, battery-operated tools from a local hardware store," he added. "And for the vehicle owner, it's costly due to the loss of work, finding and paying for alternate transportation and then paying anywhere from $1,000 to $3,000 to get your vehicle fixed."
The value of the catalytic converters varies with the model, though Ford pickups, Priuses and other hybrids and luxury vehicles are the most prized among thieves.
Astonishingly, they are rarely discovered in the act even though they often are doing their dirty deeds in residential neighborhoods at night in victim's driveways. Some reports indicated a skilled thief can remove the converter in less than a minute.
Most times, the victims don't discover the thefts until the next day.
One Chandler victim complained their vehicle had been left overnight at a repair shop and got a call the next day that converter thieves had struck.
"It's pretty evident on how I discovered it because it's really loud when you start the engine," one unlucky Honda owner told GSN. "Half of the sensor was also stolen because it's easier for the thief to just cut it away rather than unscrew it. …Even with comprehensive insurance coverage, it's still a huge hassle not having a car for several days.  I strongly suggest others learn from my experience and take some precautions."
Travis Robertson admitted he doesn't know much about cars – but he does know that a loud rumbling is not supposed to come from underneath them when they're started.
"It scared me," Robertson said. "That's an understatement, it was really scary, my car was dying."
Robertson, a senior at Arizona State University, was on his way to a football game on in October when he realized he had become a victim of catalytic converter theft.
Robertson, whose car was parked on the ground-floor level of his apartment's parking garage on the day of the theft, acknowledges that it was "really not the most secure spot." Since then, he has heard from friends and others who were also hit by converter thieves.
He suggests that people need to be aware of where they park if they do not want to become a victim of theft.
"If you live in an apartment, be mindful of how secure it actually is," Robertson said. "A lot of people think, 'This will never happen to me,' but I think they should be mindful because there's always a chance that it will."
According to NICB's Operations, Intelligence and Analytics study of reported thefts, there were 108 catalytic converter thefts per month on average in 2018, 282 average monthly thefts in 2019, and 1,203 average thefts per month in 2020.
As of the end of February 2021, 18 states were evaluating potential legislative actions to curb the theft problem. Arizona was not among them.
To increase their protection from thieves, motor vehicle owners are encouraged to install a catalytic converter anti-theft device. 
These are available from various manufacturers and can provide a level of security from theft, the NICB says, but they can cost several hundred dollars online – and some additional cost to have them installed.
Owners also can have their Vehicle Identification Number etched on the devices – though that will help only if police happen to find the stolen converter in some thief's possession.
The bureau also advises, "Park personal vehicles in a garage. If not possible and vehicles must be parked in a driveway, consider installing motion sensor security lights. While lights may not provide complete security, it may make some thieves think twice, making them leave the area and your vehicle untouched."
The bureau also said victims should call police and their insurer.
"In some cases, this theft is covered by insurance," it said. "The optional comprehensive portion of your insurance policy, the portion that covers damage caused to your vehicle not caused by accident, covers this kind of loss. However, the owner will be responsible for paying the deductible. If your deductible is $1,000 and the cost to repair the damage costs $1,000 or maybe a few hundred dollars more, drivers may not opt to file a claim."
The NICB advises drivers to contact their insurer to report the theft and determine the best course of action.  
Cronkite News contributed to this report.